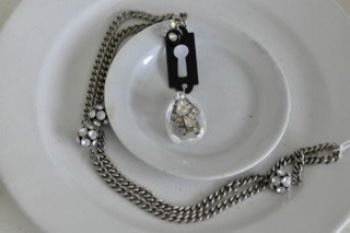 Repurposed antique necklace
Heather Grace Designs
$48.00

Handmade necklace from Heather Grace's studio. Created using antique pieces hand picked from antique stores across the U.S. This piece hits about mid waist, created from antique chandalier crystal piece and authentic antique key hole. Will arrive boxed and bowed ready for gifting and wearing...
Review This Product
Did you purchase this product? Simply fill out the form below with required fields [*], verification code and send. Your review will be posted when approved by site administrator. Review characters posted will be limited to 600.