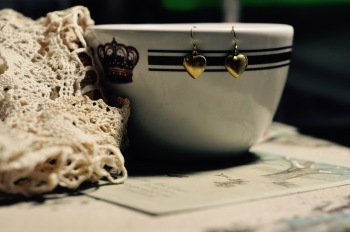 Teeny, Tiny, antique bronze heart locket earrings...
Heather Grace Designs
$14.00

Three things will last forever... Faith, Hope and Love... and the greatest of these is love... ~ 1 Cor. 13:13 May these tiny heart locket earrings be an expression of that... antiqued bronze... hearts open for a tiny picture, awaiting your sentiment... Housed in a tiny cotton bag... Matching locket necklace available in shop...
Review This Product
Did you purchase this product? Simply fill out the form below with required fields [*], verification code and send. Your review will be posted when approved by site administrator. Review characters posted will be limited to 600.