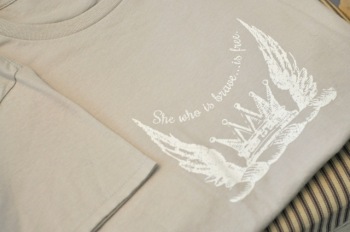 She who is brave...is free ladies T-shirt
Heather Grace Designs
$24.00

"She who is brave...is free". Another "best of show", whenever I do an artshow. Quality, soft light grey 100% cotton, pre-shrunk. A femine cut, however not "Clingy', I don't like that in relationships, why would I in a T-shirt?! I couldn't resist! Soft round collar, perfect when cooler temps arrive, for layering with a long sleeve tissue paper T-shirt and jean jacket. Grey silk tassel necklace, available in my shop. Happy freedom!
Review This Product
Did you purchase this product? Simply fill out the form below with required fields [*], verification code and send. Your review will be posted when approved by site administrator. Review characters posted will be limited to 600.