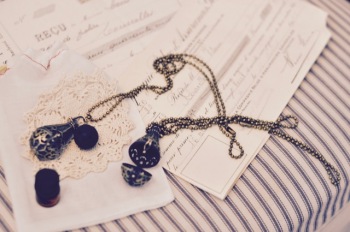 Antiqued bronze aromatherapy pendant necklace
Heather Grace Designs
$32.00

"I like my products like I like my people... non-toxic" Well, that being said, I think this should fit the bill or your gift list! Antiqued bronze, quality aroma therapy necklace comes with a small lava bead that you may drop the included vial of 100% pure therapeutic grade essential oil onto (Lavender). All wrapped up in, awesome looking, vintage dress pattern tissue paper and tucked into a muslin drawstring bag. Now go fourth and be zen like, or atleast, smell good!
Review This Product
Did you purchase this product? Simply fill out the form below with required fields [*], verification code and send. Your review will be posted when approved by site administrator. Review characters posted will be limited to 600.